Optimizing Your Digital Strategy
November 24th, 2015
We know that digitization is a disruptive force that can help your company stand out from the competition. It needs to be a priority, but where should you start? Let the key aspirations that define the vision for your company be the cornerstones of your approach towards digitization. This ensures that the areas in your digitization plan are the right ones to focus on.
Digitization Mega-Trend
Virtually every company in every industry is waking up to the mega-trend of digitization. All the traditional "analog" business processes that have been performed by people moving paper around are fast becoming "digital" in both how they are performed and what inputs and outputs are used in the process. Further, the solid walls of the traditional company are becoming virtual in that there is increasing digital connectedness with suppliers, customers, partners, distribution channels, etc and the data being generated by these. One of the early manifestations of this digitization trend was e-commerce, which disrupted retail by leveraging internet marketing, online transaction processing, electronic fund transfers, electronic data interchange, etc. to enhance buying and selling. McKinsey estimates "E-commerce is growing at double-digit rates in the United States and most European countries and it is booming across Asia." Digitization has expanded well beyond retail. What this means is more information is being converted into a digital format, more software is being used to automate business processes, more data is being generated and consumed by these processes, and more interconnection of products, value chains, and business models is occurring.
IDC estimates that about two-thirds of the digital universe is created by consumers (i.e., generated by people versus machines), but enterprises are responsible for 85% of this, in that they are causing the generation and capture of this data. In addition, the Internet of Things (IoT) is also exploding (i.e, data generated by machines). Instrumentation is being added to virtually everything, from workout clothes to baby socks and dog collars, to thermostats, and cars for monitoring driving behaviors, etc. The natural extension of this is to connect this machine generated data, via the internet, to applications (mobile or web-based) and embed analytics to enable better management of assets and resources, or to enable the asset to control its surroundings, or to extend the asset with digital services, for example.
The potential for digitization to be a game changer is inherent in its capability to generate new business models. McKinsey states, "Digitization is fundamentally altering the nature of competition". However, the reality of turning digital priorities into new ways of doing business is not as intuitive as it may seem. It impacts virtually every function and line of business—the ways they are organized, how they get things done, the technology used to perform the activities, and the metrics that the business uses to measures itself. Going digital is not simply an IT discussion and requires more than rough ideas from the lines of business on the areas of focus and scope of the effort.
Be Data Driven
Digitization means data. Lots of data in all its volume, variety, velocity and veracity. Big Data. Bain contends that, "Big Data isn't just one more technology initiative. In fact, it isn't a technology initiative at all; it's a business program that requires technical savvy." It is not as simple as adding more IT support and storage capacity and assuming that the business will spontaneously start generating data-driven insights to make smarter business decisions.
Most companies recognize the value of being data driven, but struggle because their data is all over the place. Data can be persisted in traditional data warehouses, new HDFS storage locations, public or private clouds, etc. Companies lack visibility into their data repositories. How is data actually being used? What data is missing? What data is needed? Often this is due to a siloed view of data and corresponding data management which may be optimal for a certain function in the organization but suboptimal for those strategic and foundational processes that underpin the business model and cut across all key functional areas, connecting to suppliers and customers. Tribal knowledge about data sources or systems of record are not easily translated to others and may leave with the subject matter expert when they walk out the door. Some of this knowledge is implicit in the information systems that facilitate the flow of data within legacy systems or applications. Some is obscured in code that hasn't been looked at in a long time—and still assumed to be relevant to the business, along with the underlying assumptions made when the systems were designed. Sometimes, these systems are sunsetted due to outsourcing, particularly for support functions that are not strategically vital to the business. While there is value in doing this, it also creates its own set of challenges, and may impact the data available for insight discovery. Finally, there are new sources of data that are not traditionally in play but potentially useful.
While there has been plenty of debate over centralized versus distributed enterprise data warehouse architecture strategies, there is much more at play now. Data may not be physically centralized but can be managed as an integrated whole, with strategic imperatives and business objectives being the driving force. Companies need big picture thinking about data. While Hadoop distributed file systems are affordable and support open-source tool sets for exploring, analyzing, and gaining insight from all this data, just because you've waded into the data lake with Hadoop, doesn't automatically follow that the business value will come. What is needed is a roadmap for business success.
Develop a Data Strategy
In order to ensure that the areas in your digitization plan are the right ones to focus on, you need to let the key aspirations that define the vision for your company be the cornerstones of your approach towards digitization. These aspirations can be articulated as concrete business objectives that are a tangible means to achieving your aspirations. For example, aspiring to grow revenue means being preoccupied with your customers and making sure they are taken care of, advocating for you and loyal to you. You want to improve the customer experience across all your channels and make every interaction with the customer a win-win. Your customers get to the answers or actions they need quickly; you have an opportunity to learn more about them or educate them about things that are genuinely helpful to them. Often this requires the corresponding back-office functions to be quick, seamlessly integrated, and flawless. Getting very specific about how to accomplish these things will enable your imperatives to be successful.
Once the business objectives are concrete, the next step is to translate these into business/technical Use Cases. Use Cases are best described as distinct analytics life cycles—the end-to-end value chain which articulates what efforts are required to get from raw data to insight discovery for real decisions that enable each of your business objectives. The data value chain can be described for each of your business objectives. For example, in the case of growing your revenue, let's say one business objective is "to develop and execute a new targeted and personalized marketing campaign" in order to attract prospects. This campaign is to be delivered via a mobile app to prospects that are unhappy with their current product, are likely to respond to your invitation or offer, and meet your criteria as a desirable customer. The data value chain encompasses the high-level activities of data ingestion, processing, persistence, integration, analytics, and exposure (making the insights operational). The value chain for this scenario could be:
Ingestion: social media, internal customer profile data, historic campaign response data.
Processing: text analytics, data normalization, transformation, manipulation, matching, enriching, etc.
Persistence: storing enriched data
Integration: joining, matching multiple data sources
Analytics: training predictive models for campaign response likelihood, extracting key phrases, sentiments using machine learning algorithms for personalizing offers
Exposure: enablement of campaign management application with necessary inputs and scores
After preparing the Use Cases for each business objective, you can start to see patterns of technical workloads that touch multiple business objectives. The business can take this one step further and prioritize these workloads based on their impact potential (i.e., alignment to business objectives and strategic imperatives) and their ease of implementation (i.e., low hanging fruit).
More information about developing a data strategy can be found here. This method is specifically designed to uncover the technology solutions needed to fulfill the ambitions of the business, guided by business priorities, and highlighting the most impactful areas for immediate investment and technology development. In summary, the key components of this method include: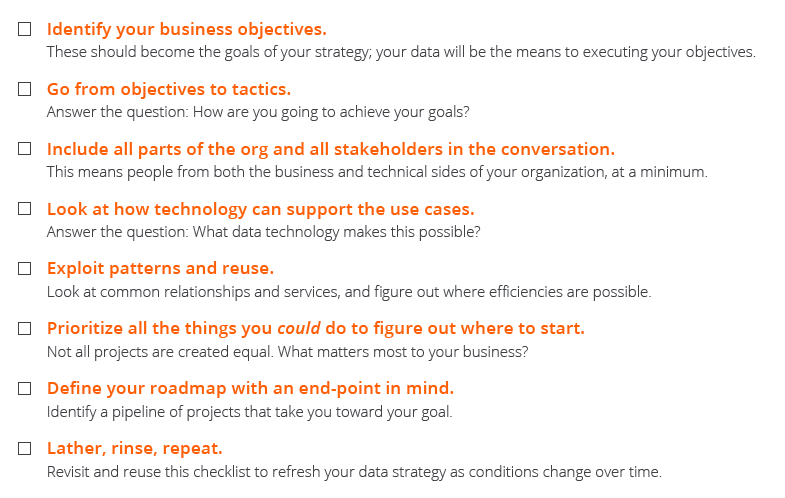 Armed with a Data Strategy to support your digitization mandate, it becomes much easier to prioritize the development of new skills and the investments necessary to transform your business into one that is competitive in the digital marketplace.