Industrial IoT—Architecture Advisory
Summary
An industrial IoT company wanted to remove operational friction and risk from managing compliant usage of industrial data.
Silicon Valley Data Science prototyped a data registry to frictionlessly manage data access and usage rights across globally distributed industrial businesses.
Background and Business Problem
SVDS was engaged by an industrial Internet of Things (IoT) company building capabilities for productivity gains and new revenue streams. Our client had a multi-tenant platform for industrial equipment and data services serving its own business units and external customers. This was based on human and machine access to volumes of information from research and development, sales, operations, and maintenance functions.
The client needed to ensure that legal usage requirements followed all their data as it traveled and changed, with minimal human intervention. Local and international regulations, commercial agreements, and cybersecurity protection—some of which applied only to individual data attributes—complicated this foundational need. Success required implementing controls that could be associated with sensor-level data on a machine or in the cloud without having to scale operations.
The client's data security and legal teams had tried to manually identify critical language within commercial contracts to feed data classification, enforcement, and audit processes across different environments, software, and locations. However, contract complexities, ever-evolving regulations, and increasing internal demand to use the IoT data prevented any efforts from succeeding without untenable administrative cost.
While recognizing the need for an efficient solution, our client was unsure how to create one adaptable to the company's variety of industrial business units, policies, data, and technologies.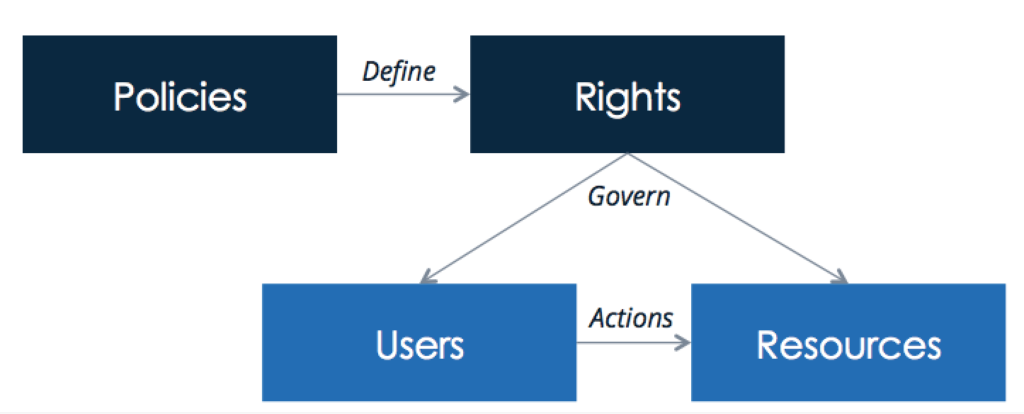 Solution
We addressed the client's potentially intractable challenge by clearly defining the problem statements and the key use cases needed to validate candidate architectures. This included:
identifying key functional and technical hypotheses and the corresponding evaluation criteria intersecting industry, architectural, and policy domains
conducting a review of existing architecture and demonstration projects for potential re-use
Our team anchored on three use cases representative of the domain complexity our client was facing: private health data in the cloud, export controls on integrated datasets, and permissible usage of customer data for analytics. With these use cases as a basis, we evaluated the business objectives and workloads to enable integration with the client's existing multi-tenant platform to seamlessly onboard, enforce, and audit data across verticals, technologies, and deployment environments. This culminated in a solution blueprint, a set of parameters, and dimensions to validate the architectural pattern.
In parallel, we developed a set of taxonomies to classify different information asset types and constraints essential to managing and enforcing access and usage needs. Data domains, business rules, and regulatory policies were defined and mapped to the taxonomies, and the taxonomies to the architectural options. Using the taxonomies and architectural options as functional foundation, we developed a service prototype that demonstrated how business rules and policies could be easily defined from the legal language, translated to applicable industrial data, and then transparently published to enforcement endpoints. The working prototype was vetted against evolving business use cases and existing architecture. This prototype allowed the client to evangelize internally and help onboard business units to the industrial internet platform.
The ability to quickly change direction of activities through agile execution was instrumental to the client's success. Through prioritization of architectural hypotheses, the team front-loaded important validations and decision points, which afforded our client influence over breadth and depth of the technical exploration. After we demonstrated solution feasibility, changing business unit priorities required acceleration of build activities. We rapidly transitioned to prototype development, meeting our client's key customer deadlines.
The initial goal was to architect the platform capability to ensure compliant and auditable data usage with minimal operational friction. As the engagement evolved, discrete demand materialized. In addition to building a prototype for our client's first customer, we articulated the business case, platform services, pricing strategies, product features, key integrations, and roadmaps to eventually sell the capability in the marketplace. The client prepared a suite of revenue-generating products based on this product definition and strategy that ensured secure usage of customers' industrial data across all functions of the platform.